Hello again dear readers. I hope you had a lovely weekend. I had a really lazy one. I spent most of it sitting on the sofa with my crochet. Cup of tea on the side and watching back to back Poirot.
I have always been a huge Agatha Christie fan. I must have been about 12 or 13 when I first discovered Agatha Christie. I still remember the first book I read.
A 'Tommy & Tuppence' novel, I couldn't put the book down and I soon became a fan.  Since then I've read many of her novels over the years. I've enjoyed watching the feature films and the TV adaptations. Some have been better than others and there have been many actors playing her main sleuths over the years. For me, however, there can only be one Poirot and that is David Suchet. He is exactly as he is described in the novels and whenever I read a Poirot novel, it's his image that pops into my head. I've always wanted the entire collection her novels and now that I have a Kindle I am in the process of downloading the novels and I'm re-reading them, but this time in order of publication.
I also have the entire DVD Collection of Poirot and it's this that I've been chilling out to this weekend. I do enjoy a good murder mystery whilst knitting or crochet, especially if set during the 30s/40s; and Poirot is mostly set in the 30s. I just love the fashions and all that lovely Art Deco design.
So, what was I crocheting? Well, I was was making a whole load of these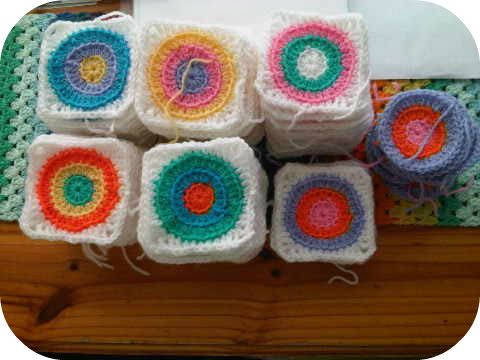 They're for a throw I'm making for my daughter. There's 99 squares in total to make and as you can see I've almost finished making them all up. The next job will be to sew them all up. Hmmm, do I have enough episodes to see me through,  I wonder or will I need to enlist Miss Marple's help.